There are so many things that can zap your energy – work, school, family, exercise, traffic, stress! However, before you reach for another cup of coffee in the afternoon, or an "energy" drink, stop to think about what you're doing.
Caffeine from coffee and those "energy" drinks will give you a temporary boost, but we all know it's not real energy. What about that mid-afternoon chocolate bar/muffin/biscuit or candy? All that refined sugar will just pick you up and make you crash soon after (this is in addition to lowering your immune system, messing with your hormones, increasing inflammation and damaging your microbiome!).
When that afternoon slump hits and you feel like you need some refueling, reach for one of our nutritionally dense, power-packed raw balls instead. These raw balls are healthy snacks with quality ingredients to give you real energy, without the crash later.
But be warned…these balls pack a punch! If you are winding down for the day…DO NOT eat these (our personal rule is not after dark)! Also, you may want to restrict little kids, as some can go crazy (like running in circles crazy).
Whether you are looking for a guilt-free chocolate treat, need an afternoon pick-me-up, are a snacker, or have a seemingly insatiable sweet tooth, these superfood mint cacao energy balls may very well be what's been missing in your life. We have been using this recipe at Open Space Healing for years – it's our go to 'treat' for staff meetings, celebrations…or just because!
And the best part is they are gluten free, dairy free, vegan, paleo AND you can make them nut free if you so choose.
Enjoy!
Mint Chocolate Raw Ball Recipe
Makes: 15 Small Raw Balls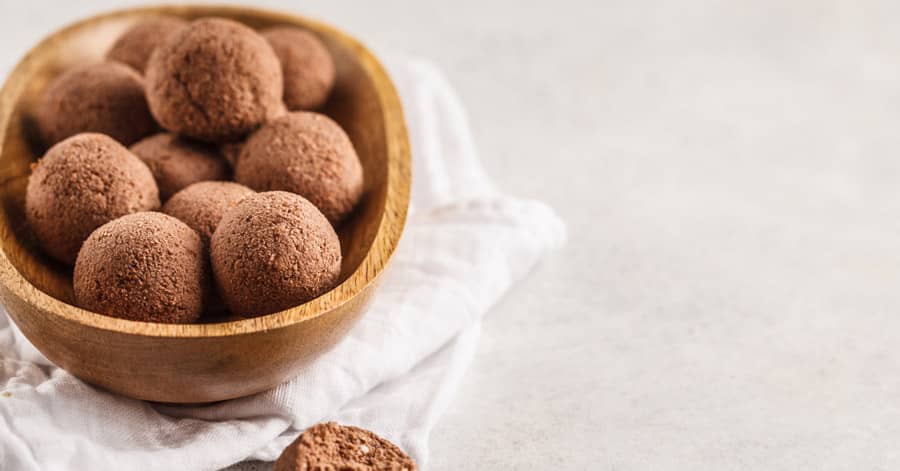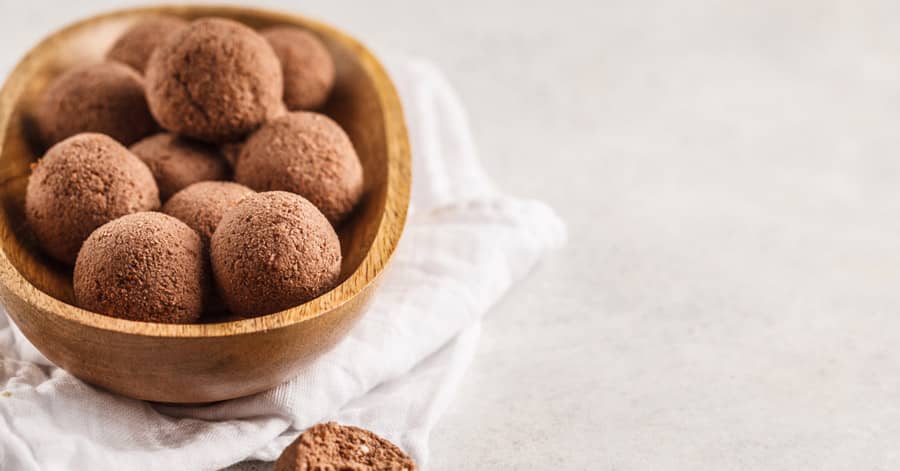 Ingredients (all organic is best):
1 cup medjool dates (pitted and loosely packed)
1 cup of almonds *
¼ cup of raw organic cacao powder (use carob for kids version)
3 tablespoons of Tahini
1 tablespoon of coconut oil
Pinch of Himalayan pink salt
1 Teaspoon of cinnamon powder
2 drops of food grade peppermint essential oil
1 tsp of LOVE! (we especially love singing a great tune while cooking)
Bonus option: Add a serve of your prescribed probiotic to the mix for extra special immune and gut boosting power!
* You can substitute this for any mix of seeds you like to make it nut free – we love pepitas/sunflower seeds/hemp seeds and linseeds…Also if you don't have a strong blender you can use almond meal instead of whole nuts.
Method:
Mill the almonds in a high-speed blender until they are fine
Add all the other ingredients and blend on high until everything is well combined
When you can mold the mixture into balls with your hands it's ready – if it's a little dry add some more coconut oil or tahini, if it's too wet add some nuts or seeds
Make the balls as big or small as you like! (I like to make some small ones for the kids and bigger ones for the adults)
Put in the fridge or freezer (they will keep for about a week in the fridge and longer in the freezer – however ours are usually gone in a couple of days!)
Yours in great health,
Dr Andy & Dr Jacinta